Supply chain management is a critical part of many businesses, so it is important to keep it under control. Every element of the supply chain needs the others to work effectively to keep things moving. Secure warehousing is one of the integral components of a sound supply chain.
It is hard to think of an industry that does not rely on a robust supply chain process. We immediately think of retailers and manufacturers, who need to have strong systems in place for parts and products. However, even service industries must count on a solid supply chain for equipment and supplies.
Streamlining the supply chain with effective warehousing.
By streamlining and optimising your supply chain will benefit your organisation, customers and clients. When reviewing your supply chain network, carefully evaluate your warehousing provision to ensure it fulfils its role within the supply chain.
The safety and storage of your stock is a key factor for your business, so it is essential to get your warehousing right. A dependable warehouse will protect and manage your inventory. Your warehousing solution might be your sole storage facility, overflow storage or seasonal space.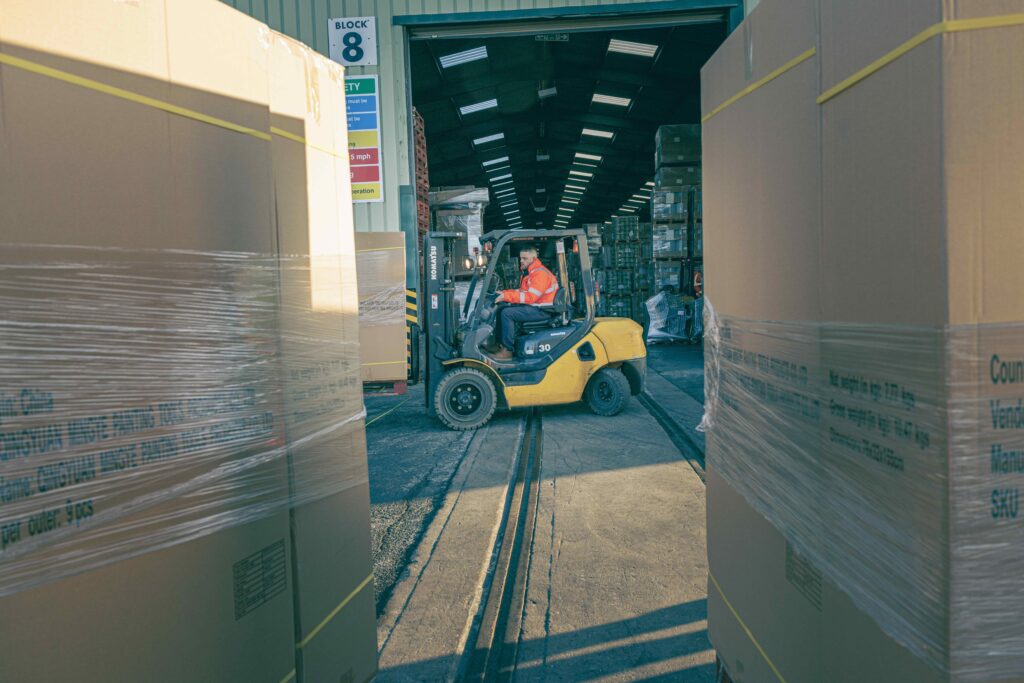 Warehouse storage: playing its part in your supply chain.
Whatever you need secure warehouse management for within your business, it is imperative to get it right. Let's look at some of the reasons why warehousing plays such a vital role in your supply chain management.
Efficient storage
Warehouses play a crucial role in efficient supply chain management by providing organised storage for materials and products. Proper storage not only allows for faster and more efficient customer deliveries but also ensures that the quality of your inventory is kept up to par.
When you are looking for a storage facility, you need to consider several factors to optimise storage techniques. It is incredibly important that the warehouse can store your specific product adequately. For instance, for perishable goods, a temperature-controlled warehouse may be essential.
In the case of imported goods, you'll need to consider whether you need a custom bonded warehouse, allowing materials to be stored until inspection and authorisation for customer supply. 
Strategic location
The location of your stock can have a significant impact on your warehousing and logistics. So carefully considering the site of your warehouse can have a huge effect on the profitability of your business or end cost to your consumer.
Think about what amenities are nearby and your proximity to supply routes and ports. By reducing the time and fuel from the port to your chosen warehouse will benefit the overall efficiency of your business. Furthermore, if the storage facility is easily accessible to the major road networks, it will also reduce driver time and mileage of your fleet. 
Safe and secure storage
A major cause of concern for many businesses is shrinkage through theft or damage, so it is important to ensure your inventory is protected. By selecting a secure warehouse with robust security and safety measures will ensure your stock is protected.
Warehouses with a secure perimeter, CCTV and manned gatehouses will defend your stock against intruders. One of the leading causes of stock depletion is through theft or deliberate damage. However, by employing security measures and routine checks will also save your stock from other damage, such as accidents, fire or pests. 
Optimised Inventory Management
Every business needs to keep control of its inventory to ensure they are profitable and efficient. So, knowing where your stock is and being able to plan your product effectively will provide a smooth-running operation. A reliable warehouse will operate a sound Warehouse Management System (WMS) to ensure that your supply chain runs efficiently.
Warehouses use the technology of a good WMS to manage stock in real time. At any given moment, your business will be able to track where your inventory is remotely. With this information, you'll be able to plan orders, arrange stock levels and organise restocks from a centralised system. 
Cost-effective and flexible
By taking care of your goods will save your business a lot of money in the long run. Reducing shrinkage will save money on replacing stock. Managing stock levels will decrease money lost through out-of-date or obsolete products.
Outsourced warehouses also give you the flexibility to control your storage costs if you are affected by seasonality or increased stock levels.
Third-party warehousing can also support your business if you are affected by a fluctuating market. This allows you to purchase stock when it suits your business and store it for when you need it. 
Effective warehousing is essential to your supply chain 
An efficient supply chain network is only successful when every component plays its part. From procurement to manufacturing, warehousing and logistics, it is important to get every element of the supply chain right. If one section fails, it can have a detrimental effect on the rest of the chain.
Warehousing isn't just about keeping stock safe and dry; it's about ensuring that the storage of your stock supports every other aspect of your process. A dependable, organised and secure warehouse will ensure your business is as profitable as possible. 
Secure storage you can trust in Immingham
GWS is conveniently located within 2 minutes of the Port of Immingham and easy reach of the nation's motorway network. Our reliable and efficient team take good care of your inventory on our secure 23-acre site.
Our proximity to one of the UK's busiest ports and road access means our clients can rely on a cost-effective, efficient service. The team at GWS is committed to a fast and effective supply chain process that keeps you moving.
Get in touch with our friendly team today to find out more.