In a recent report by GOV.UK, it was found that fires in warehouses hit a 5-year high in 2021/2022. This shines a light on the importance of adequate fire safety measures in warehouse and storage areas. As a company that passionately handles products and values our employees, we recognise the importance of implementing robust fire safety measures at our secure warehousing facility in Immingham, North-East Lincolnshire.
Fires in Warehouses: Understanding the Statistics
To fully understand how to prevent fires, it is essential to recognise the leading causes of fires in warehouses. By acknowledging what can cause fires, can help you put together a strong fire safety plan.
Electrical Faults
Electrical faults are a significant cause of warehouse fires. Faulty wiring, overloaded circuits, and malfunctioning equipment contribute to these incidents. According to a recent report by the UK Fire and Rescue Service, approximately 30% of warehouse fires in the UK are caused by electrical issues. This can be prevented by regular testing and maintenance of any electrical equipment within your organisation.
Arson
Unfortunately, deliberate acts of arson pose a considerable risk to warehouses. Vandals may attempt to cause harm to a business by starting fires. The latest statistics from GOV.UK revealed that approximately 17% of warehouse fires in the UK during 2021/22 were deliberate. This shows that having adequate security measures on-site is crucial to your safety plans.
Smoking Materials
Careless handling of smoking materials, such as cigarettes or matches, can have devastating consequences. Smoking near flammable materials or failing to extinguish smoking materials before disposal properly accounts for about 5% of warehouse fires in the UK.
Equipment and Machinery
Malfunctioning equipment and machinery can be a catalyst for fires. Poor maintenance, overheating, or mechanical failures are common culprits. Around 20% of warehouse fires in the UK are attributed to equipment and machinery issues.
Human Error
Unfortunately, human error is a reality in any industry. In the warehousing sector, mishaps like improper storage of flammable materials, negligence in following safety protocols, or misuse of equipment can result in fires. Staff training is fundamental in reducing any disasters, but accidents can still happen, so having an all-around view of your fire prevention systems is essential.
Protecting Our People
Above all, our company values the safety and well-being of our employees. By prioritising fire safety, we create a secure working environment where our team can thrive and feel confident in their daily operations. It is our responsibility to ensure that each individual feels protected and empowered while contributing to our collective success.
Protect your products
High ceilings and wide-open spaces can make it more challenging to detect fires, which is why really spending time on a fire safety plan is essential. For a warehouse or storage facility, this can be tricky. But it's not impossible. Early detection of fires reduces the risk to people, property and products.
With the right expertise and proper equipment, we can make sure that risks are mitigated and that your products are stored safe and sound.
As a responsible warehousing company, we are dedicated to robust fire safety. We prioritise the well-being of our employees and the protection of our products, which means we create an environment where we engage our staff, and they truly care about looking after your product.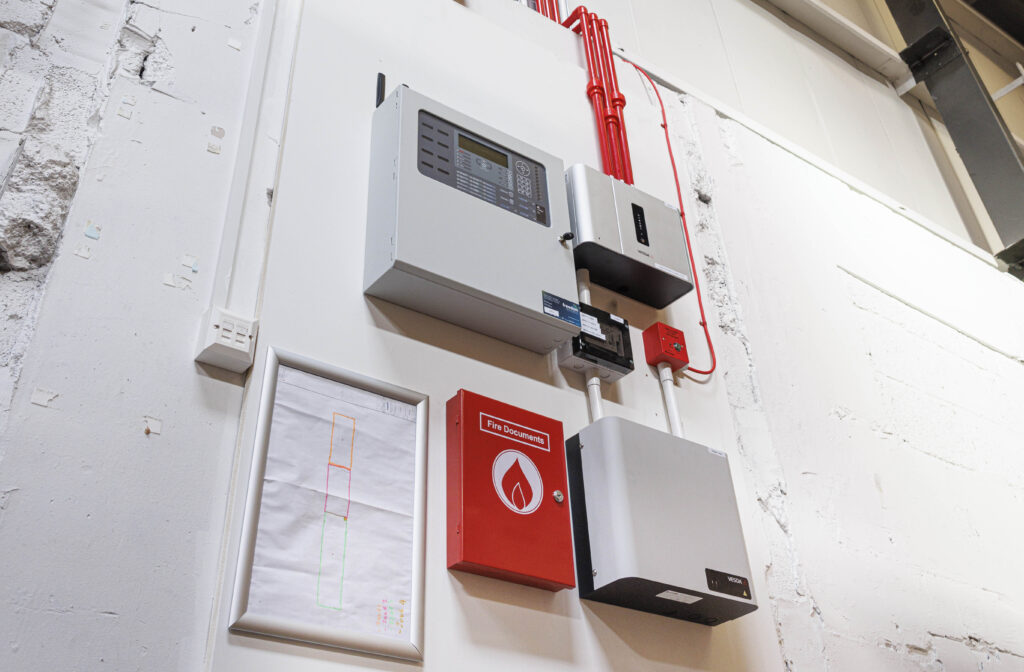 Fire safety is no accident.
The statistics surrounding warehouse fires in the UK emphasise the urgency of implementing robust fire safety measures. By conducting thorough risk assessments, installing advanced detection and suppression systems, providing comprehensive employee training, and promoting clear evacuation plans, we can mitigate the risks associated with fires and protect what matters most.
Our experience in solid warehouse management systems has meant that we have implemented excellent fire detection and suppression systems. In addition, our site is monitored by our security staff 24 hours a day, 7 days a week. Having a physical on-site presence is key to the success of our site and the protection of your products.
Our warehouses are fitted with state-of-the-art externally monitored aspirated fire detection systems. By monitoring air pressure and the air drawn through the detection system, our equipment can detect the very early signs of pre-ignition molecules in the air. This means we can act upon any dangers before they become a problem.
Safe and secure warehousing in Immingham
Remember, fire safety is not just a necessity; it's a fundamental promise when we are looking after your product.
If you are employing an external warehouse management company, it is important to find out what their fire safety policy is and how they protect your products from the risk of fire. We are always happy to discuss our credentials so you have the peace of mind that your product is safe.
Protecting your stock means saving money from damages or destroyed stock. You'll also see reduced costs in your insurance premiums if you can demonstrate that your stock is well looked after.
Together, we can ensure that our warehouses are safe, where passion for product handling works alongside a deep commitment to the well-being of our employees.
If you are looking for someone to look after your warehousing and distribution with the knowledge that your product is safe in the hands of people who care, contact a member of the friendly team at GWS today.